Pitepalt - Potato dumplings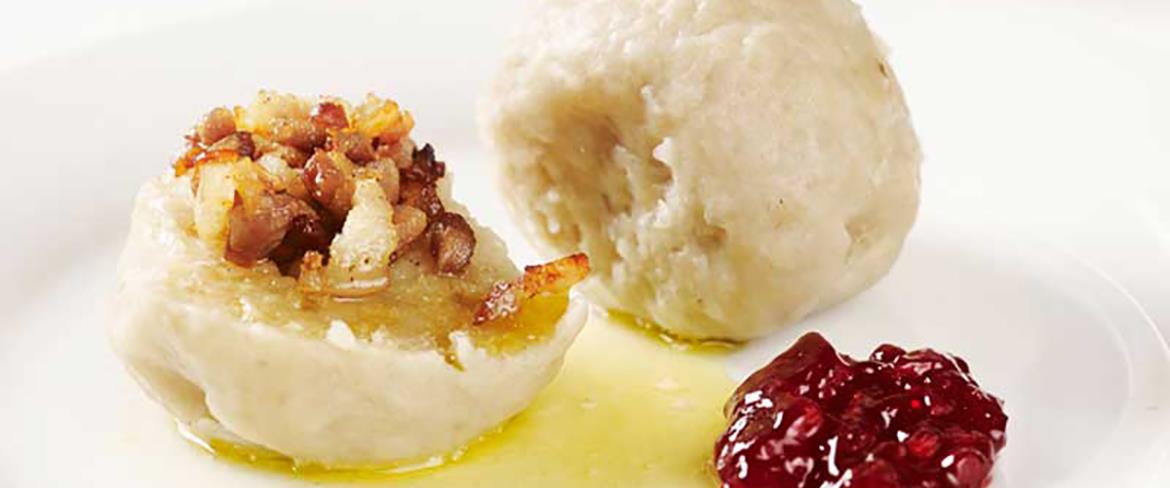 Piteå potato dumplings, pitepalt 4 servings.
12 raw potatoes, grated.
700-800g flour.
300 g lightly salted belly pork.
1 tblsp salt per litre water.

Dice the pork.
Fill a large saucepan with water, add salt and bring to the boil while you make the dough ready. Peel and grate the potatoes and drain off any liquid. Mix with the salt and flour and work into a dough.
Take a lump of dough, form it into a ball, or palt, of suitable size with floured hands.
Make a hole in the lump with two fingers.
Insert one tablespoon of pork into the hole and re-form into al palt with the pork inside.
Lower the palt into boiling water with a spoon a cook for around 45-60 minutes until done.

Serve the palt with fresh butter and homemade lingonberry jam.
Pitepalt is a local dish from Piteå with a long history. There are almost as many recipes as there are households in Piteå. Some of the flour can be exchanged for other types of flour, such as barley or rye. Any left-over palt can either be warmed up in water again, or be sliced and fried. Piteå also has its own Palt Academy, wich aims to increase the interest in Palt.